Welcome to Tripathi Products Online shop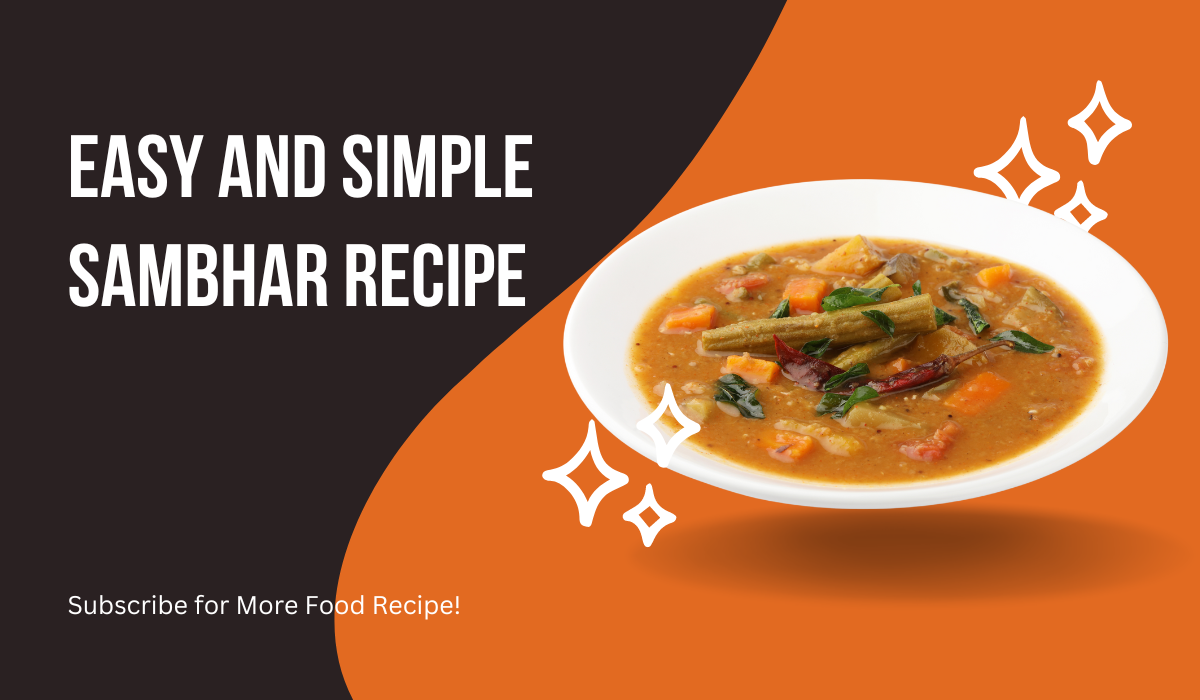 Sambar is a South Indian lentil and vegetable stew made with pigeon pea lentils, tamarind and a unique spice blend called sambar powder. It is a staple dish in South Indian homes and is also equally popular and loved by many.
A basic sambar recipe will have a mix or one or two types of vegetables along with lentils, tamarind, sambar powder and a few spices.
A good sambar powder always yields a good and tasty sambar. so when you make it, try to have a good aromatic sambar powder.
It is healthy as well as nutritious being rich in protein and also other nutrients like vitamins, minerals etc as its made from both lentils and vegetables. Sambar served with rice or idli makes up for a complete meal.
A basic sambar recipe is made by cooking vegetables and lentils separately. The lentils are cooked till it is mushy and then mashed.
Cooked vegetables, mashed dal, tamarind pulp and sambar powder are mixed together and then simmered for some minutes.
Later a tempering is done of oil (or ghee) with mustard seeds, curry leaves, asafoetida (hing) and dry red chilies. This tempering or tadka is added to sambar.
The vegetables can be steamed or boiled in water. According to my experience, when the vegetables are cooked or boiled in water, the broth or stew becomes very flavorful. The sambar made this way has better flavors as compared to the sambar made with steamed vegetables.
Sambar can be made with just one vegetable or a mix of vegetables. The vegetables that can be used alone or in combination are listed below. From the below list you can have a combination of vegetables.
If using greens like spinach or amaranth, then just add them exclusively and do not mix with other vegetables. You can also add your choice of veggies to the sambar recipe. you can add any choice of vegetable out of this Pumpkin, Carrot, Ashgourd, Drumstick, onions,Radish, Tomato, lady fingers, Potatoes, Brinjals, Snake gourd, Spinach, Chaulai, Bottle gourd, Banana stem, Plantain, French beans, Ivy gourd.
Sambar recipe includes a series of preparations, that are all assembled later together. So you need to make the spices, tamarind pulp, cook vegetables and lentils.
Ingredient
½ cup coriander seeds
2 tablespoons cumin seeds
16 to 18 dry red chilies
1.5 teaspoons fenugreek seeds
1 tablespoon whole black peppercorns
2 tablespoons chana dal
½ cup Arhar Dal
1 tablespoon urad dal
⅓ cup curry leaves.
½ tablespoons black mustard seeds
½ tablespoon asafoetida (hing)
1 tablespoon of turmeric (haldi)
¼ teaspoon kashmiri red chilli powder
salt as per taste
1 tablespoon Tamarind
Vegetables like pumpkin, brinjals, okra, drumsticks, carrots, Onions, potatoes, etc.
Method
Heat a pan and then add ½ cup coriander seeds and 2 tablespoons cumin seeds.
Roast On a low heat, the coriander and cumin, stirring often, until they become fragrant and change color.
It takes roughly 1 to 2 minutes to roast these spices over a low heat. They should smell aromatic. Do not brown them too much.
Remove them from the pan and add to a large plate or tray
Wipe the pan with a cotton napkin and add 16 to 18 dry red chilies. Be sure to remove the crown and the seeds from the red chilies before roasting them.
red chilles being roasted in dry pan
Roast the red chilies, stirring them till they change color and release a pungent smoky aroma. Place the roasted red chilies on the same plate as your other toasted spices. chillies have become dark from toasting
Add 1.5 teaspoons fenugreek seeds (methi seeds). Stir often and roast them. methi seeds added to pan for toasting and making sambar powder recipe.
Roast till they get browned, but be careful not to burn them. methi (fenugreek) seeds have become several shades darker from toasting
Remove to the same plate. Fenugreek seeds added to plate with other roasted spices for making sambar masala
Add 1 tablespoon whole black peppercorns (sabut kalimirch).
Stir often and roast. Using a wooden spoon to stir whole peppercorns as they are roasting for making sambhar podi
As soon as the black pepper becomes aromatic, remove them from the pan, to the same plate where all the spices are kept.
add Lentils in the water. keep for 15 minutes, Then drain the water Spread them on a small plate. Dry them in sunlight for some minutes or keep them under a fan until they are dried.
Now add 2 tablespoons chana dal (split and husked bengal gram) to the same pan.
For uniform color and doneness, continue stirring at intervals while roasting the chana dal. Chana dal takes longer to cook than the spices; the lentils should become golden before removing to the plate with the other toasted spices.
Now add 1 tablespoon urad dal (split and husked black gram) to the pan.
Keep on stirring these lentils, roasting till they become golden and aromatic. Remove them to the same plate as the other spices.
Add ⅓ cup curry leaves. Roast the curry leaves stirring them till the leaves become crisp. Keep aside.
Now add ½ tablespoons black mustard seeds (rai).
When all the mustard seeds finish popping, then remove them and keep aside.
Switch off the heat now and add ½ tablespoon asafoetida (hing) in the pan.
Quickly stir as soon as you add the hing (asafoetida).
When the color changes and you can smell the asafoetida (hing) in the air, remove the pan from heat and keep it aside. Asafoetida has changed color and is ready for grinding into sambar masala
Let all the roasted spices cool down to room temperature.
Add the cooled spices to your spice grinder. Also add ½ tablespoon of turmeric (haldi).
Grind to a fine powder.
Remove to a plate or bowl and mix very well. Due to grinding, the powder will become warm.
Keep powdered spices on a plate for cooling and mixing after grinding
Soak 1 tablespoon tamarind in ⅓ cup hot water for 20 to 30 minutes.
Once the tamarind gets soft, then squeeze the tamarind in the water itself.
Discard the strained tamarind and keep the tamarind pulp aside for sambar recipe
Rinse ½ cup tuvar dal (100 grams) a couple of times in fresh and clean water.
Soak them for an hour prior to cooking.
Drain all the water and add the dal in a 2 litre pressure cooker. Also add ¼ teaspoon turmeric powder.
Add 1.5 to 1.75 cups of water and mix.
Cover and pressure cook dal for 7 to 8 whistles or 9 to 10 minutes on medium heat.
When the pressure settles down on its own, open the lid and check the dal. The dal should be completely cooked and mushy. mash the dal with a spoon or wired whisk. Cover and keep aside.
Rinse, peel and chop the vegetables in small cubes.
Take 1 to 1.5 cups chopped vegetables in a pan or pot. Also add 6 to 7 pearl onions or 1 small to medium onion (thickly sliced) and 1 small to medium tomato (quartered).
Sprinkle ¼ teaspoon turmeric powder, ¼ teaspoon kashmiri red chilli powder and salt as per taste.
Adding kashmiri red chili powder is optional and can be skipped. It brings a nice bright color in the sambar.
add spice powders to veggies
Add 1.5 to 2 cups water and stir. Add enough water so that they cover the vegetables.
Keep the pan on a stove top and begin to cook vegetables on a medium-low to medium flame. in between do check when the vegetables are cooking.
Cook till the vegetables are almost done. Ensure that you don't overcook the vegetables.
Add the prepared tamarind pulp to the cooked vegetables.
Mix well.
Next add 1 to 1.5 tablespoons Powdered spices . At this step you can also add ½ to 1 teaspoon of jaggery powder. Adding jaggery is optional.
Stir and mix well again.
Add the mashed dal.
Mix very well. If the consistency looks very thick, you can add some water. You can easily adjust the quantity of water and make medium to thin consistency of sambar. But keep in mind not to add too much of water as this will dilute the flavors.
Simmer on a medium-low flame till it comes to a boil. Stir at intervals. You will see a frothy layer on top when the sambar begins boiling.
At this step switch off the heat. Cover and keep aside.
Check the taste and add salt if required.
In a small pan or tadka pan, heat 2 tablespoons gingelly oil (oil made from raw sesame seeds). You can even use sunflower oil, ghee or coconut oil instead. Add ½ tsp mustard seeds.
Let the mustard seeds crackle.
Then add 1 to 2 dry red chillies (halved and seeds removed).
Immediately add 10 to 12 curry leaves, 5 to 6 fenugreek seeds (methi seeds) and 2 pinches of asafoetida (hing). Be careful while adding curry leaves as the oil splutters a lot.
Fry them till the red chilies change color and curry leaves become crisp.
Immediately add this tempering mixture in the hot sambar.
Cover the pan with its lid for 4 to 5 minutes, so that the aroma and flavors from the tempering mixture get infused with the sambar.
Serve sambar hot or warm. Garnish with some coriander leaves if you prefer.
It can also be served with steamed rice, idli, dosa, medu vada or uttapam.